Space Media Festival 2016 is an initiative by Modern Body Festival and DEZACT architectural platform.It consisted of multiple small- to large-scale activities focusing on avant-garde experimentations traversing fields of art, architecture and urbanism. The festival took the form of a 9-day workshop-festivaal – where 4 invited artist-architect teams led participants in creating new works – a full day symposium and a 2-week open-air, public exhibition. The festival aimed to involve public, educational, professional and inter-disciplinary participants and audience, as well as to engage with Toad Hill, a contested site in Taipei, as part of its agenda of in-situ making and direct intervention.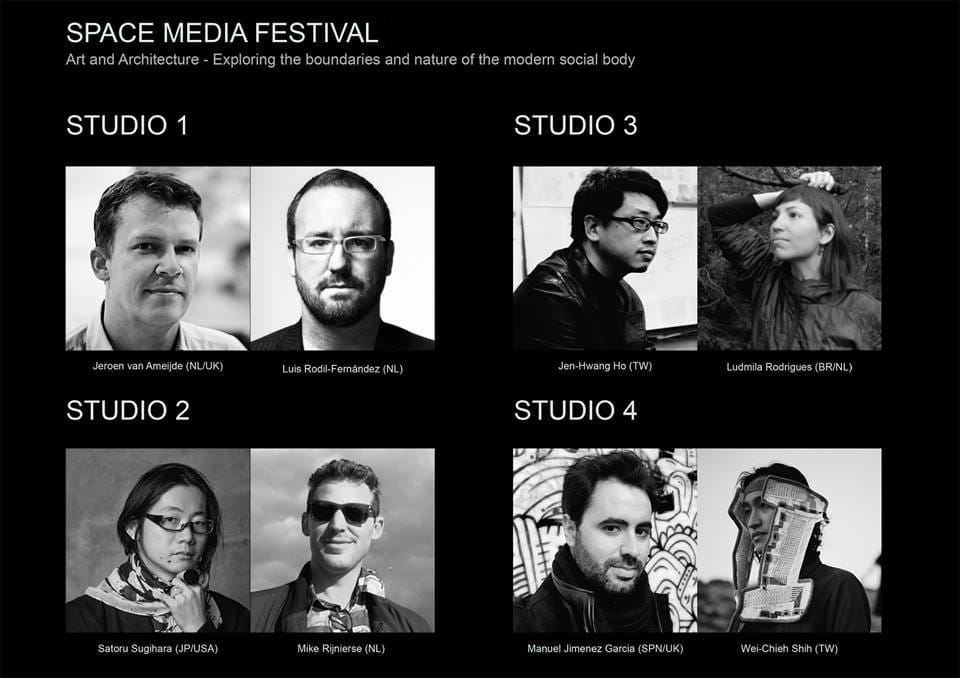 Studio 1: Flow 
Jeroen van Ameijde (UK/NL) + Luis Rodil-Fernández (NL/ES)
Studio 2: Gem of Lives 
Satoru Sugihara (US/JP) +  Mike Rijnierse(NL)
Studio 3: Body Maze 
Ludmila Rodrigues (NL/BR) + Jen-Hwang Ho (TW)
Studio 4: The Woven Memory 
Manuel Jiménez García (UK/ES) + Wei-Chieh Shih (TW) + Christina Dahdaleh (UK/JO)
Synopsis – redefining 'I / WE / THEY'
The special theme in this pilot trans-context, trans-cultural and trans-disciplinary collaborative programme of 2016 is 'I / WE / THEY'. This theme is at the core of both the Space Media Festival taking place in Taipei in 18-28 August 2016 and the Modern Body Festival in The Hague in November-December 2016. At the same time, the collaborative and explorative process led by teams of artist-architect will also span across both contexts. The concept of 'I / WE / THEY' is thus being subjected to diverse forms of engagement between the body, the space and the medium, as well as being embedded in specific cultural, social, technical and spatiotemporal conditions. We are exploring the effects of architecture, technology and digital communication, as they are fundamentally transforming the way we exist as a society, culture, species. Our focus is on the social body – identity, space, and community: how we interface with I/WE/THEY. Where do the limits of the self extend and where do the social bodies of group and community begin? How do we understand and position ourselves as individuals, while still feeling a sense of belonging and connection to an expanding global community? How do we exist, identify, and interact?  Furthermore, we want to explore the role of architecture and technology as central social interfaces between the I and the world, the I and the group, the I and the self. How do they impact our behavior, confront our habits, alter our experience?
Year:
2016
Type:
Festival as art project
Participating artists:
Shih Wei Chieh (TW); Manuel Jimenez Garcia (UK/ES); Christina Dahdaleh (UK/JO); Jeroen van Ameijde (NL); Luis Rodil Fernandez (NL/ES); Satoru Sugihara (US/JP); Mike Rijnierse (NL); Ludmila Rodrigues (NL/BR); Jen Hwang Ho (TW)
Duration:
Aug 18-28 (festival)
Aug 28-Sept 11 (exhibition)
Location:
Taipei Taiwan: Toad Hill; National Taiwan University of Science and Technology
Materials/Media:
Architecture / Intermedia / Mixed media / Multimedia
Organizers:
National Taiwan University of Science and Technology – The department of Architecture; DEZACT; Stichting Modulus (Modern Body Festival)
Co-organizers:
Shih Chien University – The department of Architecture Design; Digital Make Lab & 4.0 Industrial Make Lab; National Association of Interior Design Taiwan
Photo credit:
Dezact